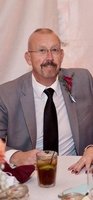 William E. Gendreau
William E. Gendreau, 59, of Quinebaug, CT died Friday, February 8, 2019 at Backus Hospital of Norwich, CT. after a battle with cancer. William was born September 26, 1959 in Southbridge, MA. He is the son of Henry "Pete" and the late Shirley (Talbot) Gendreau.
He is survived by his wife of 36 years,Justine (Bodreau) Gendreau, one daughter: Ashley Gendreau of Quinebaug, CT and one son: Ryan Gendreau and his wife Lucy of Danielson, CT; his father Henry "Pete" Gendreau; of Southbridge, one sister: Cheryl Gendreau of Auburn, MA; Several nieces and nephews. His brothers and sisters in the Fire Service . Predeceased by his brother, Donald Gendreau.
William graduated from Bay Path High School. He worked several years in the printing ink business. Most recently worked for Auto Zone in Webster as a Commercial Sales Manager.
Willie devoted 41 years to the Quinebaug Vol Fire Dept. as Captain. He proudly served as Lieutenant with the Webster Fire Rescue and formerly with Southbridge Fire Dept. where he began his career in Fire Service.
A Mass of Christian burial will be held 10:00 am on Thursday, February 14 at St. Stephens Church, Corners of Route 197 & 131, in Quinebaug, CT.
Calling hours will be Wednesday, February 13 from 4 to 8 PM at Bartel Funeral Home, 33 Schofield Avenue, Dudley, MA.www.bartelfuneralhome.com
#Willie Strong