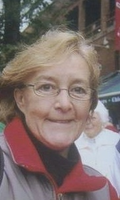 Bonnie L Masse
Bonnie L Masse, age 67, of Southbridge died Tuesday, September 3, 2019 at UMASS Memorial- University Campus after a long illness.
She is survived by two daughters, Devon Alston and her husband, Tyler of Oxford, and Siobhan Niquette and her husband Joesph of Paxton; her father Rene Berger of Southbridge; two sisters, Tammy Casey and her partner Paul Doyle of Webster, and LuAnn Kelly and her husband Edward of Punta Gorda, FLA; and one brother, Joel Berger and his wife, Pam of Webster; 4 grandchildren Evahn, Kennedy, Quinn and Wesley; her significant other of25 year, Ronald Antos of Dudley. She was predeceased by her mother, Jane (Maynard) Berger.
She retired last year from the Rogers Corp. of Dayville. Bonnie was a fork lift operator for 40 years at Cranston Print Works in Webster. When she wasn't working, you would have found her cheering on her girls at sporting events or shopping with her mother or daughters and grandchildren. She loved her two dogs, Bella and Baxter.
Memorial calling hours will be Thursday, September 12th from 6 to 8 PM at Bartel Funeral Home & Chapel 33 Schofield Avenue, Dudley. Family and friends are welcome to join with Bonnie's family for a Memorial Mass on Friday Sept. 13th at 10 AM in St. Mary's Church 247 Hamilton St. Southbridge burial will follow in St. George Cemetery Paige hill rd . In lieu of flowers, memorials may be made to Second Chance Animal Shelter, 111 Young Rd. PO Box 136, East Brookfield, MA 01515