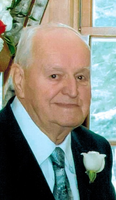 Frank L Mackowiak Jr.
Frank L Mackowiak, Jr., 91,died peacefully with his loving family at his side Thursday, October 3, at home in Dudley. Frank was born in Dudley, MA. He is the son of the late Frank Mackowiak Sr. and the late Pearl (Stawasz)
He is survived by his wife of 71 years Gloria (Daviau) Mackowiak , two daughters: Lori Breau and her husband Eddie and Linda Mackowiak , one son: Russell Mackowiak all of Dudley.; He also has 6 grandchildren, Jason Champney, Christy Clausen, Trisha Knorr, Edmond Breau Jr. Nichoel Doktor and Melissa Mantia. 11 great grandchildren Jesse Champney, Joey and Nicholas Breau, Tabitha and Jarred Bezanson , Aria Champney, Gabriel Beauregard, Jayden and Aislyn Knorr, Wesley and Vivian Doktor. A great - great grandson Jordan Champney
Mack was a foreman for Pratt & Whitney for 40 years in East Hartford. Frank Was a communicant of Sacred Heart of Jesus Church and Past President of the League of Sacred Heart . Member of Putnam Lodge of Elks. Golden member of PACC . Frank ran the Sacred Heart and Webster Elks Bingo for many years. Mack enjoyed golfing, fishing and Foxwoods "going south" as he called it, but must of all he treasured his family and being blessed with so many who loved him dearly.
A Mass of Christian burial will be held 11:00 am on Monday, October 7 at Sacred Heart Of Jesus Church, 16 East Main St., Webster . Burial will follow in St. Joseph Garden Of Peace Cemetery. Calling hours will be Sunday, October 6 from 3 to 5 pm at Bartel Funeral Home & Chapel 33 Schofield Avenue, Dudley.
In lieu of flowers, memorials may be made to Sacred Heart Of Jesus Church C/O Rectory, 18 East Main St., Webster, MA 01570 www.bartelfuneralhome.com
.