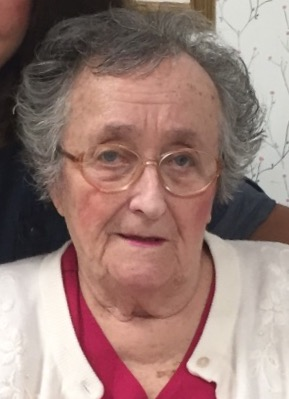 Obituary of Irene Scheffler
Irene Scheffler, age 88, of Dudley died Monday, September 9, 2019 at Lanessa Extended Care in Webster. Irene was born in Dudley, MA. She is the daughter of the late Adelard and Agnes (Krogul) Rouleau.
She was predeceased by her Husband Norman Scheffler who passed in January of 2017.
She is survived by her son: David Scheffler and his wife Janet (Conti) Scheffler of Webster. She also had two grandchildren; granddaughter, Katherine Scheffler and her wife Lauran (Cecchi) Scheffler of Hull; Grandson, Thomas Scheffler and his wife Emma (Bergstrom) Scheffler of Millville, MA; several nieces and nephews and was predeceased by her twin sister Pearl Millette who passed in 2012.
She was a cook for many years with the Dudley-Charlton School System. She treasured her family and her devoted husband of 66 years and enjoyed spending all of her time and love on them.
Her family wishes to thank the very kind staff at Lanessa who watched over her for the past 3 years.
A private family funeral was held on Saturday September 21, 2019 at the Saint Louis Church in Webster. She was laid to rest with Norman at the Calvary Cemetery in Dudley, MA.Bartel Funeral Home & Chapel 33 Schofield Avenue Dudley assisted the family .www.bartelfuneralhome.com
To send flowers to the family of Irene Scheffler, please visit Tribute Store
Share Your Memory of
Irene